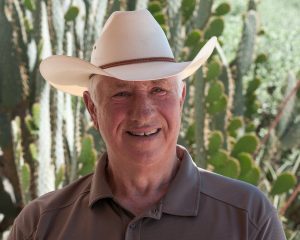 Jim Ward, D.V.M. received his Bachelor of Science degree in 1964 and his Doctorate of Veterinary Medicine degree in 1965 from Texas A&M University. Medicine. He practiced equine veterinary medicine for forty years, emphasizing equine reproduction. He has been extensively involved in the equine industry, owning and managing several breeding farms. He is a Life Member, former board member and a past president of the Texas Thoroughbred Association. He was also a board member of The Breeders Cup Ltd and Texas Racing Agri-Industry Council. Jim is currently the Equine Management Consultant for Cargill, Inc., a position he has held since 2000.  He is a member of the Cargill Product Development Team and the Cargill Equine Enterprise Team.  His passion has been to develop feeds that would provide solutions for veterinarians and horse owners for diseases such as Colic, Laminitis, Tying-up, Developmental Orthopedic Disease, Cushing's Disease and Equine Metabolic Syndrome. In 2004 he received the Cargill Innovation award for his role in the development of the feed, SafeChoice. He received the Trailblazer award from Cargill in 2015.
Ward is the manager of Center Veterinary & Reproduction Services and serves in a consultative role at Center Ranch and Ward Animal Hospital. He does nutrition consulting at major ranches including 6666 Ranch, EE Ranches, Noble Equine Reproduction, Sterling Ranch and Hartman Equine Reproduction Center. Ward does nutrition consultative work with equine veterinary practices including Texas A&M University Large Animal Hospital, Lone Star Park Equine Hospital, Brazos Valley Equine Hospital, Elgin Veterinary Hospital, Premier Equine Veterinary Services, Hill Country Veterinary Hospital and Retama Equine Hospital.
Ward serves on the Texas A & M University College of Veterinary Medicine Development Council. He is an Adjunct Professor at the College of Veterinary Medicine where he presents lectures on equine nutrition to veterinarians, veterinary students and equine industry members.  Ward teaches Equine Veterinary Nutrition at Stephen F. Austin State University where he is an Adjunct Professor.. Ward has lectured on equine nutrition at Louisiana State University, Oklahoma State University, Mississippi State University, University of Tennessee and University of Illinois. He recently developed a series of online learning lessons on equine nutrition that has been approved as an extracurricular course at the Texas A&M College of Veterinary Medicine and Biomedical Sciences. This same material has been approved by the Texas Board of Veterinary Medical Examiners for C.E. credit for veterinarians.
Ward received the Distinguished Alumnus award from Texas A & M University College of Veterinary Medicine and Biomedical Sciences in 2015.
He is a member of the American Veterinary Medical Association, American Association of Equine Practitioners, Texas Veterinary Medical Association, and the Texas Equine Veterinary Association.